Products
TATPROF solutions allow to realize the most challenging ideas of architects
Doors TPT-65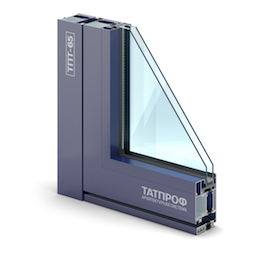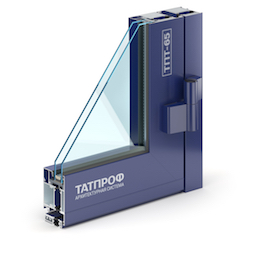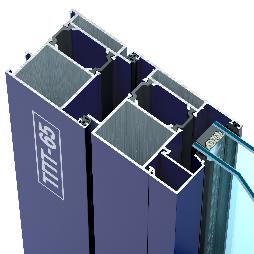 Application
This series is designed to create entrance units, stained-glass windows, suspended facades, door and window packages in accordance with regulatory documents SNiP 2.03.06 "Aluminum structures", GOST 22233-2001 "Extruded aluminum profiles for transparent enclosure structures", GOST 25116-82 "Doors made of aluminum alloys for public buildings", GOST 21519-2003 "Window packages made of aluminum alloys", GOST 23747-88 "Doors made of aluminum alloys". Typical components of stained-glass windows, doors and windows are designed on the bases of extruded aluminum profiles of 65th series of TATPROF design system.
Distinctive Features
The 65th Series— the most technologically advanced assembly of the items using modern angle and Т-shape connectors that allow assembling of angle structure using dowel pins and angle crimping machine. T-shaped connection of profiles is carried out by turning the latches in the connectors. Minimum processing is required during component assembly.
To assemble structures it is required minimal processing for door structures:
punch or drill holes for angle fixing screws;
cut out the grooves at the same time to install the lock and cylinder.
Detachable casement fastener that does not require profile processing for installation. Detachable profiles of the bottom door ledge doesn't require processing of casement pillars and completely covers their edges, due to this air doesn't enter into pillar chambers. Doors design allows using extruded embedded cut-to-size components (without milling) for angle fastening by crimping or using dowel pins. It is also possible to use extruded embedded part for dowel fastening of imposts. The doorsill can be replaced during operation without dismantling of the whole structure.
The 65 Series has several doorsill sizes for various operating conditions. Window series 65 has a base size of 65 mm for the frame and 73 mm for casements. The basic profiles of the series are divided into three standard sizes in height: 25 mm, 36 mm and 52 mm, which helps to optimize the projects under development.
Download documents
